Roll over image to zoom in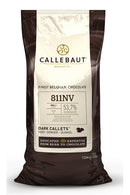 This Callebaut Belgian Dark Couverture with 53.7% cocoa solids is made with the finest cocoa beans sourced from around the world, natural vanilla and 100% pure cocoa butter.

This recipe has a round, extremely well-balanced chocolate taste, smooth cocoa body with a pleasant intensity. It is easy to pair with a wide variety of different flavours and ingredients.  It is a great all round, balanced chocolate ready to do great in any job.

Loved by chefs all over the world, it is Callebaut's all-round chocolate for confectionery, ganaches, mousses, biscuits, sauces, drinks and many other applications. It's simply made to help you achieve perfect end results every time.


The small callets allow for quick and easy melting
Flavour profile - bittersweet couverture 53.7% cacao content, smooth flavour with subtle vanilla notes.
Standard fluidity 
Total Fat: 37% 
Convenient 10kg bulk pack size 
Store the product in a clean, dry and odourless environment for up to 24 months
Storage Temperature : 12 - 20 °C
*Bulky Goods Item - delivery to Canberra region only or $35 delivery charge applies
Crafted in Belgium by Callebaut - arguably the world's finest chocolate house.
Payment & Security
Your payment information is processed securely. We do not store credit card details nor have access to your credit card information.