Roll over image to zoom in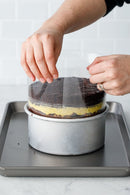 Perfect for stacking cakes with custards, creams or jelly fillings
Build curved and custom designed desserts and savouries
Strips can be cut to size and is flexible to bend and mould
Excellent for all chocolate work, e.g. bows and bands

Acetate peels away from all surfaces smoothly
When using with chocolate it leaves a natural sheen (gloss)
A completely Food Safe product (reusable if required)
Acetate has lots of uses in cake decorating and chocolate work.  Cut a length to suit and use to line a cake tin or mould for mousse cakes, tortes and entremets.  Rest against cut slices of cake to allow your customers to see the delicious cake filling through our clear cake wrap.  Smooth out melted chocolate and wrap around your cake as a chocolate collar, or use the chocolate to mould, roll or cut to create chocolate garnishes. 
Sold by the metre - Simply pull out the required length of Klear Kake Band and cut it with scissors.  
SIZE: 2.5inch wide
LENGTH: sold by the metre (if selecting 2 or more metres, we shall cut the entire multiple length as one piece)
Also available by the full roll (box).
Payment & Security
Your payment information is processed securely. We do not store credit card details nor have access to your credit card information.