Roll over image to zoom in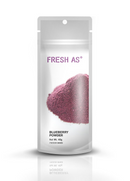 Fresh As Blueberry Powder 40g
The Fresh As range of freeze dried fruit and fruit powders are ideal ingredients for baking and desserts to add intense flavour and vibrant colour.
Fresh As source the highest quality fresh fruit from New Zealand and around the world, then freeze dry these products to produce intensely flavoured fruits and fruit powders.
Their Blueberry Powder is 100% fruit, allowing you an all-natural, preservative and additive free ingredient. These are the perfect product to achieve intensely flavoured and vibrantly coloured creations such as buttercreams, icings, macarons, meringues, marshmallows and jellies.  

Sprinkle on top of your icecream, pannacottas, pancakes, morning cereal and yoghurt combination, use as a finishing touch on your special occasion cakes and desserts, bake within your cake batters or fold through your buttercream/ganache layers. 
All Fresh As products are made from 100% natural fruit, with no added preservatives.  Contains no allergens.  Gluten free, dairy free, egg free, nut free, vegan etc etc. 
Ingredients:  Blueberries (equivalent to 310g fresh blueberries)
The Fresh As range is packed with a 2 year shelf life and is presented in a convenient resealable zip lock foil pouch to lock in the freshness. Once opened, we recommend you store in the fridge.
Payment & Security
Your payment information is processed securely. We do not store credit card details nor have access to your credit card information.