Roll over image to zoom in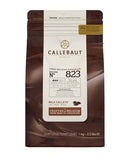 Milk chocolate recipe n° 823 is Callebaut®'s iconic milk chocolate.
It stands out with its deep, warm colour, prominent roasted cocoa flavours and seductive caramelly notes.
The 823 is widely appreciated because of its generous taste and great reputation in workability.
It can be paired with a wide array of powerful fruity, spicy, dairy or liqueur-like flavours.
The core of the chocolate is the signature Wieze cocoa blend: a well-kept secret mix of mainly West African top grade cocoa beans.

The 823 has a standard fluidity, making it your all-round chocolate for moulding, enrobing and flavouring of mousses, ganaches, crèmes, sauces, etc.
Ingredients: sugar, whole milk powder, cocoa butter, cocoa mass, emulsifier, soya lecithin, natural vanilla 
Does not contain gluten, naturally vegetarian, kosher
Payment & Security
Your payment information is processed securely. We do not store credit card details nor have access to your credit card information.