Roll over image to zoom in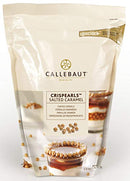 Tiny, shiny pearls in caramel milk chocolate with a crunchy, toasted biscuit inside.
Caramel chocolate Crispearls™ combine the richness of Callebaut®'s iconic milk chocolate with a dash of pure caramel and a crispy heart of toasted biscuit. They are great for snacking and adding an exciting finishing touch to your desserts or pastries.
Just sprinkle on top of a glazed cake, entremets or desserts to add your elegant touch of pure indulgence. Mixed into chocolate mousse, ice cream or bavarois, they add a crispy chocolaty texture to your desserts and remain crunchy.
Ingredients: Blend of milk and white chocolate with caramel flavor 84% (sugar, cocoa butter 29%, caramel powder (condensed whole milk, sugar, glucose syrup, salt, acidity regulator: E500ii), whole milk powder, whey powder (milk), cocoa mass 1%, emulsifier: soya lecithin, natural flavoring), salted crisped cereals (wheat flour, sugar, salt, oat flour, wheat malt flour, raising agent: E500ii, natural vanilla flavoring), glucose syrup, sugar, glazing agent: E414, modified starch, vegetable fat (coconut).
Payment & Security
Your payment information is processed securely. We do not store credit card details nor have access to your credit card information.