Roll over image to zoom in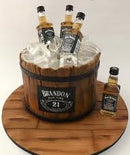 CakePlay Isomalt Nibs are such a great innovation! This unique isomalt can be melted in the microwave, making it easy to add sparkle and dimension to cakes. It is also ideal for creating free-standing sugar showpieces. CakePlay Isomalt Nibs provide consistent, high-quality performance time after time. Our isomalt product lets you add a professional touch in just seconds and is the hot new decorating tool you've got to try!
Ready-to-melt isomalt nibs. Just pour and melt to quickly create fun and easy decorations with beautiful clarity. Stand-up FDA approved food safe pouch with tear notches for easy opening and resealable zip closure.
The nibs are also ready to use if you want to add 'ice cubes' to a cake like a beer esky or barrell of whiskey for example.
Discovered in the 1960s, isomalt is a compound derived from sugar beets.  It's a sucrose derivative and looks much like table sugar in its crystallized form.  However, isomalt is 100% cane sugar free.
Isomalt is common in sugar-free products such as hard candies, toffees, chewing gum, nutritional supplements, cough drops, and throat lozenges. Over the years, it has become very popular with pastry chefs and cake artists for its versatility and stability
Payment & Security
Your payment information is processed securely. We do not store credit card details nor have access to your credit card information.