Roll over image to zoom in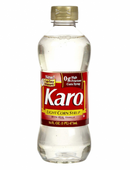 Karo Light Corn Syrup with Real Vanilla is an essential ingredient for making a variety of desserts, modelling chocolate, buttercream, spun sugar, etc. 
Made with real vanilla that tastes lip-smacking good - it is clear and will not taint the colour of your creations.  Use in recipes for traditional candies, marshmallows, caramels, sticky buns or cereal bars.  Add shine, body and smoothness to chocolate sauces, icecreams and sorbets etc.
As an invert sugar, it's benefit over table sugar is that it prevents crystallisation - making it ideal for candy and icecream making.  It can handle much hotter temperatures than honey, golden syrup etc which tend to burn when cooked down, and it has a much milder flavour helping your 'key' flavour shine through.  
Our corn syrups are truly great when used in recipes that call for something sweet. From baked goods like pecan pies to toppings for French toast, pancakes, and waffles, to glazes, candies, popcorn balls and even in sauces for meat and poultry, our corn syrups have a smooth texture, are natural sweeteners, and have been known for their trusted quality and wholesome, nutritious goodness since 1902.
Sweet, high-quality corn syrup
Made with real vanilla
Bake that perfect pecan pie and other tasty treats!
Not

 

High

 

fructose

 

corn syrup.
Gluten Free
Ingredients: CORN SYRUP, SALT, VANILLA.
Payment & Security
Your payment information is processed securely. We do not store credit card details nor have access to your credit card information.