Roll over image to zoom in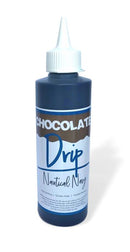 Drip Cakes have taken the world by storm.  They suit both formal and fun themes and are now super easy to create with 'Chocolate Drip'!  So easy, even the kids can do it.  
Simply melt in the microwave for 30-45 seconds, shake well to combine and then squeeze for easy and consistent drips in your favourite colour.   Once set (which only takes a minute or two), drips can also be painted with metallic edible paints for an even more lush effect if you desire.  
Store the left-overs in the fridge until the next time you need to reheat and drip or drizzle over your next cake or dessert.  Left-overs can be stored for up to 18 months.
We've even tried squeezing chocolate drip into our chocolate moulds and they produce beautiful chocolate decorations in no time at all.  We also keep a bottle on hand to use as an glue between cake boards, dummies and affixing decorations to cakes. 
Pro tips: 
Test the consistency of your drip on the side of a glass. 
Use firm squeezes to create long drips and gentle squeezes to produce short drips. Don't try to add more length to a drip after it's dried.
Ingredients: Sugar, Vegetable Fats and Oils, Emulsifiers 322 Soy, 492 Soy Lecithin), Whey Powder, Flavour, Antioxidant 307, 307b, Milk Solids, Cream Powder, Natural Flavours, Colour (E153, E127, E133), Glyceride..
Made in Australia from local and imported ingredients.
Payment & Security
Your payment information is processed securely. We do not store credit card details nor have access to your credit card information.