Roll over image to zoom in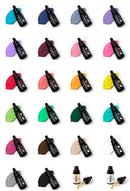 Brighten your baking with our range of beautiful Gel Colours from Sprinks.  The Australian made gel colour (food dye) is available in 22 colours and is perfect to colour fondant, buttercream, royal icing, batters, macarons, meringues and much more. 
Presented in a user-friendly and super convenient dropper bottle, which enables accurate dosing and easy colour / recipe replication.  Combine gels to create the entire spectrum of rainbow colours.  
Use a drop of Antique White with your favourite colours to create soft muted tones of that colour - perfect for natural flowers and foliage shades (see the Antique White Mixing Guide picture). 
Team up with the Sprinks Paint Base to convert into an edible paint.
Mix with the Sprinks Oil Base to easily colour chocolate and other fat-based baking ingredients.

Allergen free.
Ingredients:  Glycerol, Colours (vary), Propylene Glycol, Lecithin.
Payment & Security
Your payment information is processed securely. We do not store credit card details nor have access to your credit card information.