Roll over image to zoom in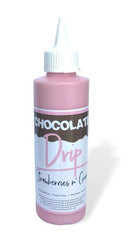 Creating consistent chocolate drips is now even easier with Chocolate Drip!
Each bottle is microwave safe and the squeeze top is perfect for creating accurate drip effects.
Method: Microwave for 30 seconds without lid. After heated, secure lid and shake thoroughly for 1 minute to ensure chocolate has melted through. If chocolate hasn't completely melted through, heat in 10-second intervals until desired consistency is achieved. Cut tip and proceed to use.
Pro tips: 
Test the consistency of your drip on the side of a glass. 
Use long squeezes to create long drips and short squeezes to produce shot drips. Don't try to add more length to a drip after it's dried.
Ingredients: Sugar, Vegetable Fats & Oils, (emulsifiers 322 soy, 492 soy lecithin), Whey Powder, Flavour, Antioxidant (307, 307b), Milk Solids, Cream Powder, Natural Flavours. FDA approved Colours (differs per colour). Halal.
12 months shelf life from manufacture date
Payment & Security
Your payment information is processed securely. We do not store credit card details nor have access to your credit card information.